AMIGUITO OF THE WEEK ~ Oscarito
December 17, 2005 - June 13, 2013
Oscarito is the guardian angel of Amigos de Jesús who left to watch over us in heaven on June 13, 2013. On the 3-year anniversary of his death we will spend the afternoon gathered around his grave giving thanks for his life and remembering him. Some of the children and adults who knew and loved him share their memories: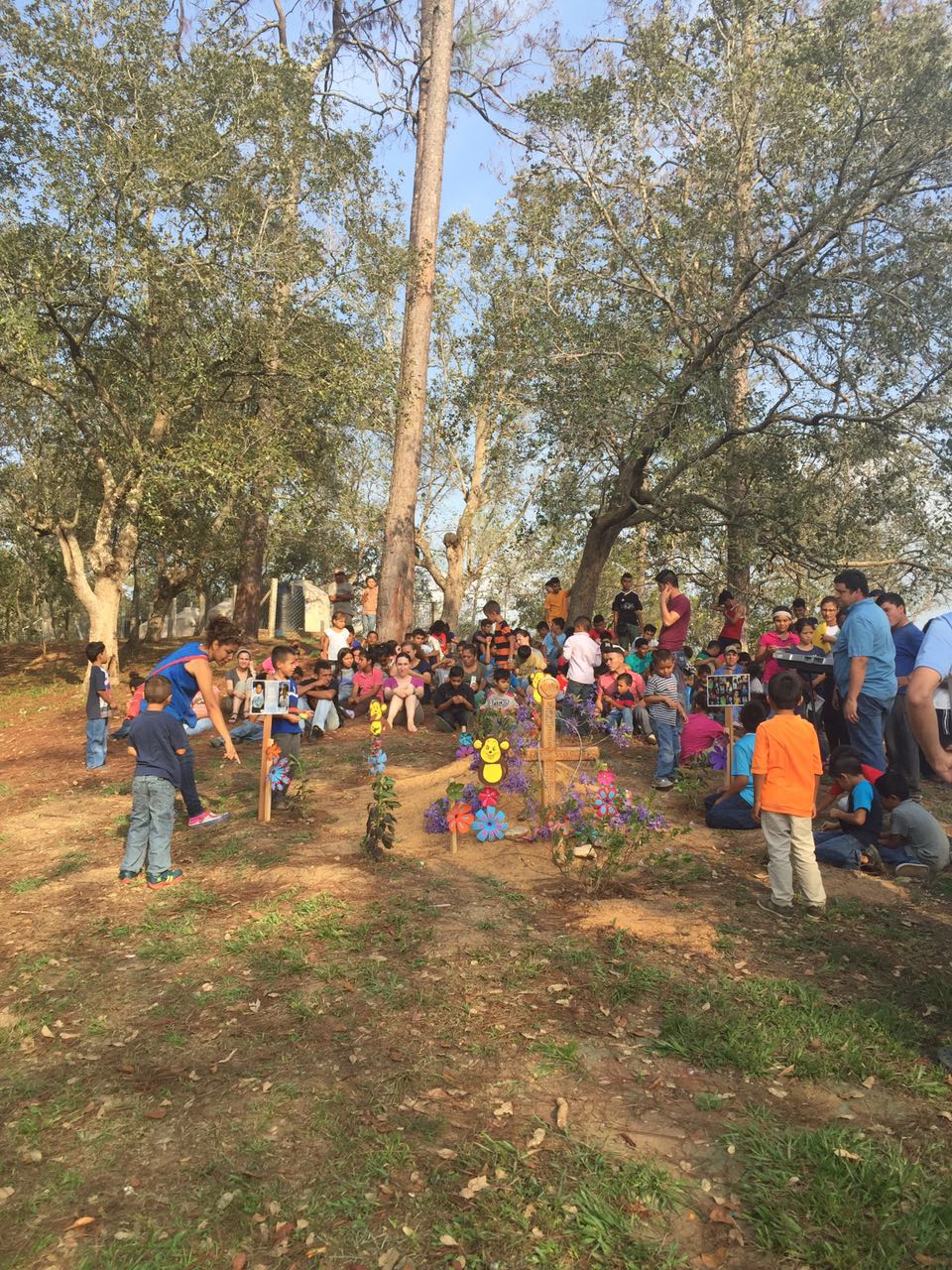 In April of 2013 we learned of his story and made arrangements to welcome him to Amigos de Jesús. He was believed to be 7 or 8 years old and weighed less than 20 pounds. Our family remembers those first days:
"I drove four hours that day to meet him at the hospital where he had been recuperating for a month. We were afraid of taking him to Amigos de Jesús because we are so far from health care, what if we couldn't give him what he needed? But then I saw him in the hospital, looked into his big, scared eyes and I knew he was ours. Two days later he was released from the hospital and came to us."
-Padrino Wilson
"I remember that the sisters brought him (Missionaries of Charity) and that he looked scared. He had a little bit of blood on his lip and I watched the sisters clean it off."
-Kristina, * 6 years old
"He was so so so skinny. Skinnier than me."
-Bayron, * 5 years old
"I remember you (Amy) were holding him and other kids tried to climb on top of you as well. Oscarito got so scared and bit you."
-Padrino Wilson
That was a day we all changed at Amigos de Jesús. I remember well his rotten, neglected teeth and when he bit my shoulder in a moment of panic, I was surprised how much those teeth could hurt. He was so scared. We took turns carrying him around because he couldn't walk and we didn't have wheelchairs or strollers to put him in.
Oscarito's home was with the 'chiquitos,' our home for the littlest children. They were little during the short time they shared with him, but their memories are strong as ever.
"He was so cute! I liked to look at him in his crib."
-Cinthia, * 4 years old
Madrina Marta cared for Oscarito along with all the little ones, she shares, "They accepted him right away. He couldn't play with them, but he always loved to watch them play."
"Sometimes he stuck out his tongue and it made me laugh!"
-Sindy, * 5 years old
Suyapa is one of the adults who was here when he arrived. She remembers being impressed by how our 'chiquitos' looked out for him and his things. "Our little ones when they are first with us are often tempted to steal food. But no one ever touched Oscarito's special food, in fact they took care of it."
Oscarito was so sick, neglected and malnourished even after a month in the hospital. He had no strength, no energy and weighed less than an infant, but was the height of a four-year-old.
"The first morning he was here I gave him a bath. It was harder than bathing a newborn. He had no strength in his body and couldn't hold himself up. He was so light, and nothing but bones."
-Padrino Wilson
"His hands were soooooo skinny. I've never seen such skinny hands."
-Alison, * 6 years old
Oscarito could only eat pureed food, but quickly learned what he loved. David is our young man who cared for Oscarito around the clock. He remembers:
"The day he came I saw the sisters feeding him broth. He loved to eat but it looked hard to feed him. But then it was my responsibility to do it. He loved eating but would get mad if I didn't feed him quickly enough."
"He was special. So special that he needed a stroller to ride in and too special to eat the food the rest of us ate, I loved to watch him eat."
-Alison, * 6 years old
One of David's favorite memories is the day there was a party to welcome back Anthony and Chris Granese, the founders of Amigos de Jesús. There was cake and soda and David let Oscarito try some. "I know I wasn't supposed to let him have anything with sugar, but I gave him some frosting and a sip of Pepsi. He loved it so much, although then he got mad when I wouldn't give him more."
Food was a great motivator for Oscarito after a lifetime of malnutrition and neglect. He learned to take some supported steps to reach his plate, and figured out to climb out of his stroller to get to the Gatorade underneath. He ate meals every three hours around the clock, and David was in charge of feeding him, but his brothers and sisters of Amigos de Jesús liked to help feed him because of the joy it brought him.
"I liked to help David feed him. It made him so happy and it made me happy."
Sara, * 5 years old
"When he started to make sounds that weren't grunts it was always about food. He called the food 'mama' and 'papa."
-Madrina Marta
Oscarito's joy was our joy, and the whole Amigos de Jesús family was moved by his smiles and loved to be invited into his happiness.
One of Suyapa's favorite memories was when Anthony Granese took him out of his stroller and danced with him. It was the biggest smile she ever saw from Oscarito and the first time she saw him laugh. Everyone who looks back at our time with Oscarito thinks about his smile and his laugh--more than they think about how frail and neglected he was, or the situation he came from.
Aside from food, Oscarito's other love was music. Whether dancing with Anthony, or using an old cell phone to listen to music with David all day, music brought Oscarito joy and peace.
It's impossible to remember Oscarito without picturing him with David. In spite of only being 19 years old, David learned to give unconditional love like a parent does, and David was transformed by Oscarito.
"He couldn't talk, but I will never forget the little sounds he made to get my attention. Sometimes he would just stare right into my eyes and just look at me. Then he would smile or laugh. It was such a great time I had with him. Back then I thought I had problems, I was wanting to go to university but didn't know what to study. But from Oscarito I learned that my problems are nothing compared to what he went through. He made me a better person. He taught me compassion."
-David Sosa
Three years later, Oscarito is still a part of our lives and our family. Since his passing, there are now more people who have never met him, than those who did. His story, his laughter and his smile will forever remain in our memories and continue to change our hearts. As the Amigos de Jesús family continues to grow, so does Oscarito's impact.
~ Amy Escoto, Operations Director